Monday, March 29, 2010
Doing a jig and singing...... "4 more weeks, 4 more weeks.... la la la......."

Just come out already.

available for you to read by

Michelle Morgan
0 shout outs
Monday, March 22, 2010
Our life for Dan and I has not been that exciting.... really. We are just waiting, patiently might i add, for this child of ours to finally pop out of me.
Last night we went over to a couples house and joined them for dinner with another couple from the ward. We played a few games, talked and played Wii. We all had a great time. The Dorney's, the couple who hosted, are leaving in about a month. Shane got in to flight school with one of the military groups. Laura is just about to start her 3rd trimester. The Tuckers were the other couple. Jessica and Gordon are expecting too. Jessica is just about in her 15 week. We served in the nursery with the Tuckers all last year and when we got called out of it, the Dorneys replaced us.
Everything is going great. We couldn't be happier with how this pregnancy is going, besides the constant sickness I had for 12 weeks straight back at the beginning, the getting up to go to the bathroom twice a night now.. how the nausea is back and how constantly uncomfortable am, the constant hip and back pain and pressure... ooo i also get, on occasion, some lightning pain just surging through my back. That is fun. All in all, it really couldn't go any more smoothly... I'm healthy, she's healthy and that is all that we need.
I'm on my final two weeks of work. Crazy! I have been at this office for over a year and have loved the people that I work with. It's going to be sad to leave but super exciting at the same time. They really have become my El Paso family.
This last week was Dan's spring break. We got what we wanted to get done and that was to paint the ugly bookshelf that we have, into an adorable bookshelf/dresser for our little one. We picked up the supplies and paint the weekend before and when I got home Friday at 12, Dan had everything out and ready to go so we could start painting. I really wish he had this kind of excitement last year when we painted our kitchen table and chairs. Granted we did paint those during NFL draft time but heck we were painting during NCAA march madness... kinda the same thing.... right? He's just a
little
excited to be a daddy. Anyways, I'm so sorry i didn't get a before shot of the bookshelf. It was really gross. Old fake wood, with stickers and blue paint randomly splashed on it. We never really worried about it cause it was in our junk/office/storage room. We never really needed it to look fancy. It served it's purpose well, to house all our books. Now that we need to get a room ready for Virginia and since she supposedly going grace us with her presence in just under 5 weeks. *fingers crossed*We better start cracking.
It took most of the afternoon to paint the bookshelf but it looks fantastic!! Holy goodness.. It's all new looking and just gorgeous. I'm so happy that we did this.
here it is.... all painted white and cute and almost ready for her. I purchased some fabric baskets, 6 of them, that i'm decorating to match somethings i wanna put in the room. I've gotten 1 and some of another done. ooooooo *light bulb on* actually something just came to my mind that I wanna do to them....I have none done now. We are also collecting, slowly, some books for her. I wanna go and get some of my favorite ones growing up, like, all of the Don and Audrey Wood books and other various books. I loved to look at books when I was a child and we had a ton of them. My mom loves books too.... seeing as she got her Masters in Reading....hmmm....... where did my love for books come from?
This is the detailing up on the top. It's beautiful and we really never noticed it till we painted it white. What a glorious find on the furniture.

When i finally get the finish product done i will post it. I have a few art works that are in progress that i want to frame and hang in her room. Since we are still unsure what we are going to be doing for the summer, I don't want to decorate her room to much and then have to redo it some where else. Besides she's going to be sleeping in our room for the 1st couple of months. There is really no rush to the projects. Just the bookshelf so i have a place to put her clothes and other things.
Peace

available for you to read by

Michelle Morgan
2 shout outs
Tuesday, March 2, 2010
I think my favorite part of being pregnant so far is looking for thing to purchase for the lil' bundle of joy....who is constantly kicking now. Even as I'm typing this she's furiously going and strong too.
I have looked high and low for the basic essential that every little baby is going to need, and i have finally, fingers crossed (I change my mind every two mintues), picked out what I want.
The bedding and the crib have been the worst search for me. When it comes to finding the crib, not only am I trying to find something that I like and can use for all my children, I am of course trying to keep it at a reasonable price. Why oh why oh why do, i really like the cribs that are like 650.00?!?!
I'm so sorry Husband, i have expensive taste...
I found this one at Walmart.....
really?!?, I can't believe I found the one I want at Walmart of all places. A major factor in choosing this particular crib is that the couple at
Young House Love
purchased this crib and made a fantastic review and love it. I'm not saying that they were the ones that found the crib for me, it was on the list of many cribs i was deciding between and they just helped me to choose this one. It's also under 300 bucks and it comes with the toddler rails. Most of the cribs that i have seen, you have to purchase the toddler rail separately and those can cost up to 100 bucks. I'm thinking this is a great deal on an awesome crib.
I love the clean modern look of it. :) so beautiful!! Thank you Daddy and Veniece for purchasing the crib for us!! And Diane and Danny, Dan's parents, for purchasing the mattress!!!
This is the bedding that I'm thinking I am getting.
It's from Land of Nod and it's on sale!!! Wooo!!!! Again, I have expensive taste.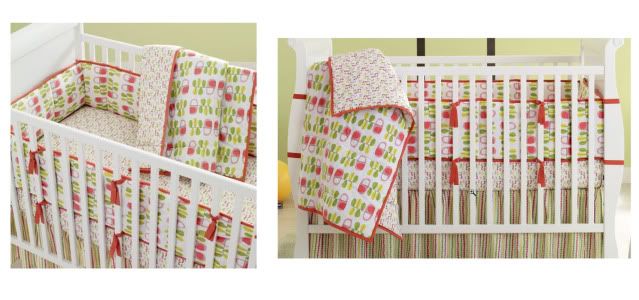 It's super cute. Not OH MY GOSH!!! that is bright! It's perfect!! for me at least. Again, I love modern. I also love that you don't have to get the whole set, which would cost a ton. You can get thing separate. So I'm going to get the bumper and quilt of this set and get cute pink sheets at target.
Thank you Mommy for this purchase!!!
Then there is the stroller. We have opted to get a travel system. Elizabeth got one and loved it. She also got a Graco brand stroller and she took it to Italy and back and still uses it. It's in fantastic condition and If something can hold up the way my family travels all the time, then it's a great brand to keep with.
We wanted something Neutral. This one is brand new. About two months in production. It's exclusive at Babies R Us. Which is kinda a bummer seeing as the closest Babies R Us to us is on the East side of town. We live on the West. It's about a good 40 minute drive out there. It's all good. I called yesterday to see if they had any in stock because online they seem to fly off the shelfs. They are always saying it's out of stock. Anyways, Diane is headed out to the East side for a lunch thing on Thursday and is totally willing to pick the stroller up! She is awesome!
Hooray for the Relief Society sisters and wanted to purchase a large group purchase and this is what they are all pooling together to get me!!!! I love my ward!! I really can't wait to have the stroller.
Those are the mighty purchase that i have decided on.
We have a bookshelf that Diane and Danny gave Dan and I. It's not so cute looking now....but a fresh coat of new white paint and some cute little fabric bins, which I purchased a few weeks ago, will make for awesome chest of drawers/bookshelf for Virginia. We plan on painting that during Dan's Spring break. I will do some before and afters pictures of the project.
Again Dan and I just can't wait for Miss Virginia either Rose or Katherine Morgan to be here!!! We love our baby!!!
Peace

available for you to read by

Michelle Morgan
4 shout outs